The Clayton, Oklahoma Hummer Meet
May 24-25, 1997
---
I just got back from the DFW 4WD Club's Clayton, OK annual get together. It was a well organized, enjoyable outing, even despite lots of rain.
There were hundreds of people there, and maybe 150 vehicles, mainly Jeeps (including an old one with four wheel steering), '60s vintage Broncos (some of which were very impressive!), Samurais, Toyotas, and the like. The club had scouted the area very well and located about a dozen trails, rated from 1 to 4+, and brief descriptions were written for each one on the sign up sheets. There were guides ("Trail Bosses") for the groups, which were limited to about 15 vehicles each.
There was one other Hummer there, owned by a very nice husband and wife couple, David and Ernie Hinnant, from Tulsa. They're list members and will fill you in on their situation. They had catastrophic transfer case problems, probably due to a faulty gear, but I had to accuse them of not playing hard enough.
Since I was only there for a day, I can only comment on two trails, Purgatory, which was mostly rock crawling; and Lower Power Line, consisting of hills made pretty tricky because of the rain, and including a narrow, off-camber turn with about four foot deep ruts on the outside. These trails kept us out for ten hours, which included about four hours of sitting around waiting for broken vehicles in front of us to be fixed (lots of field welding). This experience illustrated the truth that the probability of breaking down is proportional to the number of vehicles.
The fun Saturday morning started about 9 a.m. with a short parade in the rain through town. Our group, which initially included about ten vehicles, shrunk to three (a fine number) before time to leave. This may have been because of the rain, but I heard that several people switched to other groups because they were afraid that my HMMWV wouldn't make the trail and would tie them up waiting for us. Later on, our small group became a bigger group because we caught up with another bunch, and after waiting awhile for their repairs, we passed them. I expect that some of the people we passed were those who dropped out of our group earlier, in which case we must have laid on a world of HURT (Hummer Reality Therapy) on them! That's justice!
Hummers probably aren't optimized for rock crawling, and Purgatory is almost all rock. It was an education for us as well as for the others. Before this event, I'd had some problems with tires popping off the beads and losing air, so I'd fitted tubes to my TSX-SLs, and also decided to keep my tire pressure at a relatively high 20 psi. With this pressure, I probably was at a bit of a disadvantage (the group leader's Samurai ran 6 psi.). Anyway, with the tubes I'd installed, I had no tire problems at all. At one point, I noticed a hefty chunk of wood jammed between the bead and the tire on one wheel, but later it was gone and no air was lost. Next time I'll try 15 psi.
Anyway, the TanVee did just fine, giving up a little to smaller vehicles in tight situations, but often I was able to just forge ahead and plow through or over rather than tiptoe around. The question, "How in the hell did you get through...?" was usually answered with "I went over." Still, the Jeeps with Terra Flex suspensions, and our group leader's modified Samurai, seemed to have some advantage. On the other hand, they had to go around trees.
By the way, because of tire concerns, I was carrying two spares, and the vehicle's total weight was 7,450 lbs. We weighed it a few days ago, and with a 170 lb. driver and one spare, it weighed 7,460 lbs, 3,840 on the front and 3,620 on the rear, a pretty well balanced vehicle (51%/49%).
One narrow place I couldn't go over was a box culvert under a highway. The concrete box was less than nine feet wide, which would have been no challenge except that I couldn't get a straight shot at it and was also severely tilted to the left side, just coming out of a creek. I was about to hit the windshield frame or maybe the light bar at the top, when four guys hopped up on the right front of the hood and tipped the TanVee approximately flat, allowing me to creep forward for a few feet until I was on level ground. Thanks, guys! I wasn't concerned about tipping over (was I naive?), but I think some others were worried that the TanVee would tip over sideways. Anyway, this put another case of HURT on the spectators.
Later on, on Lower Power Line, on the muddy, narrow, off-camber curve, I Got my only chance to try the Mile Marker winch for my own benefit (although I did use it other times to pull others out of trouble). This was because I kept sliding sideways into the four foot deep rut on the outside of the turn and couldn't go forward. I had to winch about 20 feet. The Mile Marker worked okay, but it is too slow for my taste. I'm going to install a p/s - p/b bypass valve to make sure all the p/s pump output goes to the winch. This might help a bit, but a higher volume pump is the real answer.
Further on up Power Line, on a rocky part of the hill maybe 1/4 mile long and crossed by ledges about 18" -- 24" high, my son employed the time proven PTM (Pedal To the Metal) technique and flew up the hill that others had to fight. More HURT for the masses, and great fun for all!
I saw lots of broken parts -- steering stuff, spring shackles, u-joints, etc. And lots of hose clamps, pieces of angle iron, come-alongs and field welding to the rescue. We pulled a Toyota pickup with broken rear u-joint and rotated differential (the spring shackles broke) for a couple of miles up and down hills. I wasn't driving (my son was) and I had to keep checking to see that our "trailer" was there -- I never felt it! That's the benefit of lots of torque and weight. Maybe Jeeps and the like just aren't as rugged as I'd like to think Hummers are. But, to be fair, I've done a lot to beef up the TanVee.
Since I was busy driving much of the time, I got only a few good pictures. One of my passengers got some pretty good videos (maybe 10 - 15 minutes worth).
To close, I was quite impressed by the area and the organization and trail preparation of the Club. I'm looking forward to going back this Fall.
Lee F.
Now for some photos: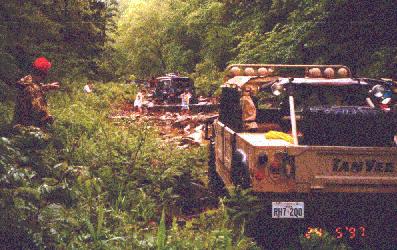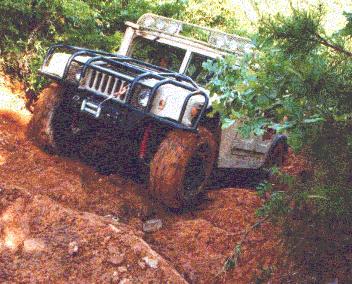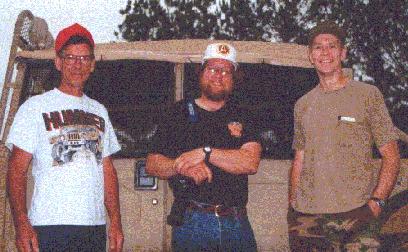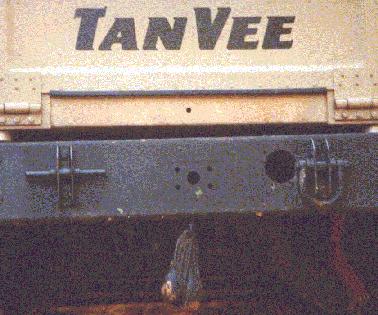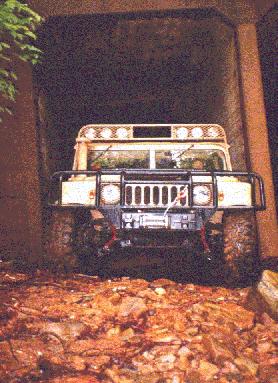 ---
Just wanted to fill you in on the story about our truck at the Clayton, OK 4x4 event put on by the Fort Worth-Dallas FWD club Memorial Day weekend. We met Lee Fikes and co. at the A&A motel Friday evening and looked over each other's vehicles, deciding both were more than ready for the task at hand. (Ask Lee about the gender of his vehicle, hopefully a picture might make it's way to the HML events page!) The weather was threatening rain all weekend and gave us a taste about 1100 that evening. Saturday AM showed a turnout of what looked like about 150 or more various vehicles including all the regular types and some others such as an M151A1 mutt. We signed up for a 3+ run along with 12 other jeeps and took off for the hills at about 8:45. The rain started during lineup and continued thru to the trail head, which is called 3-stage. (If you have seen Rick Russell's off-road adventure series videos, you would see the first stage has a rather large slab rock step about 18" high on an incline that really plays hell on short wheelbase vehicles, but usually poses no problem for my truck) Anyway, the first couple of jeeps made it up because of the rock being washed clean by the rain but, then mud was spread by their tires making it slick and harder to get up. After a couple of other attempts by others, I tried the hill, getting my front wheels up and not being able to get my rear wheels to get traction, I stopped and used BTM and began to move. That was when I heard the fateful POP-BANG that caught my attention. The truck would not move either direction and my front wheels were locked up. A jeep came to my rescue and hooked to the rear bumper and pulled me down off the hill, front end skidding and sliding to the side, but not at too precarious an angle. Then, almost down, the front end broke loose, grinding noises occurred, the casing broke, and the truck bled all 3.5 quarts ATF onto the mud. Someone picked a few pieces of gears that fell out and gave them to me, I proceeded to get my tools out and crawl under the truck in the mud and remove the front driveshaft. (fun) Doing this, we managed to get back to town (6mi at 5mph) and wait for the wrecker to pick us up the next day for a 3.5 hour trip home. Needless to say, I got in touch with AM General on Tues AM and spoke to Don Wooldridge about my little problem. Even though the truck was out of warranty, he said they would send me a new transfer case at no charge! I will install it myself and hope this won't happen again.(It's not supposed to!) By the way, it was the center differential gears that broke, the ones that let the truck run in full-time 4 wheel drive. When in HL or LL, this gear set is locked, but torque is still transferred through these gears even though they aren't turning, causing side loads on only a few teeth of each of these gears. There must have been some stress fracturing going on one or more of these gears and the added torque of BTM in low range may have caused one to break, causing a sequential failure of the others and putting pieces of gear through the drive chain to the front drive shaft (causing the front end to lock up) and then finally rupturing 1/2 the width of the chain but not breaking the chain or the cooling loop but breaking the case wide open. I wonder if these gears are heat treated, as they should be if they aren't. Imagine a truck loaded to full GVW in a slip and grab traction situation under attack fire. I would like to know if anyone has had a similar situation occur.
Thanks for listening.
DaveXLC2