Hamburg, Pennsylvania
November 30, 1996
Pennsylvania Hummers Hamburg Outing by Hal Johnson
First of all I would like to say thank you to all of the people that assisted me in making this event happen. I have met some of the greatest people in the past few weeks. From Bob Bish, who allowed relentless posting of Pennsylvania Hummer info, Eric Anderson and Tom Ogden who jumped onboard from the get-go and many others who faxed and called till their fingers were sore.
I just sent out a simple little email letter asking a few guys to join me in Hamburg. I'm still in shock. I can't believe I had 22 trucks show. This just shows that we need more of these rallys back east.
The Hamburg, Pennsylvania site is located on the northeast corner of PA. route 61 and Interstate 78. Wendy's, located on Rte 61 was our gathering spot. The meet was 12 noon on Saturday November 30th. I arrived approximately 11:30 to a parking lot full of anxious Hummers. I was promptly told that two already found the site and were STUCK. These guys really like to play hard.
I started a small caravan to the site only a few blocks away. As soon as most people saw the hills and mud, they did a starburst in all directions. I thought we were being chased by the police. So much for a site briefing.
The site is a lot of fun due to its wide open areas. There are Mud holes, Hills of soft anthracite coal and lots of ground obstacles but few trees in the main section. It is great for Hummer owners that don't want to scratch their truck. For those of us who prefer a "seasoned" truck, there are nasty sections in the back and down by the river.
We had a total of 22 trucks arrive on scene. A lot of them are non- HML people. Some received word from their dealers faxing out invites. A great deal of faxing and calling was courtesy of Eric Anderson of NUCAR Hummer in Wilmington, Del. and Tom Ogden of James Hummer Outlet in Flemington, N.J.. These gentlemen did not come to sell. They came to play...and play they did!
All of us found our niche and divided into groups of 5 or 6. The river run was my favorite part of the day. We had a 2-way street set up in the Schuylkill River. All we needed was a traffic signal. The mud pit was dominated by Bill Bauman, a certified Hummer mechanic. He was like a pig in....oh well, he had a great time. At the end of the pit session, it was hard to tell the color of any vehicles. What a blast!
The long distance award went to Paul Gilmore and his daughter Merideth. They arrived Friday evening from Toronto, Canada in their 383 CARC Hummer, Military replica style. On Saturday, Paul towed my M101 trailer to the site for those interested in seeing a nice Hummer trailer.
I'd like to go on, but I think I'll let the following pictures tell the story. The following pictures were taken by Paul Gilmore, Joe Cama, Mike Selig and others. Thanks to them for a great job (They shot pics while I had fun...thanks guys).
---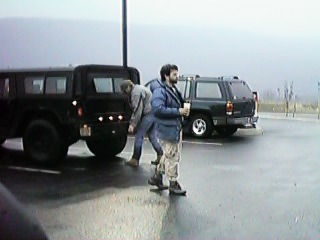 This is me in Wendy's parking lot. Hey what is that Ford Explorer doing there?
---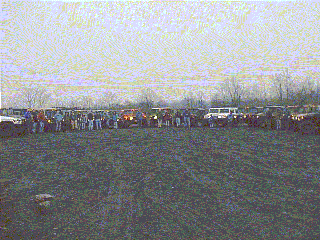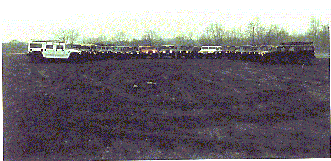 This is most of the group. Some had left by the time we could collect everyone for a group shot.
---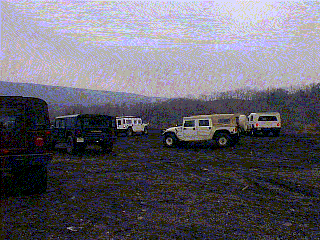 Here are a few more "Renegades" looking for trouble.
---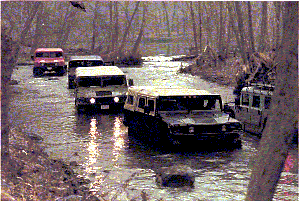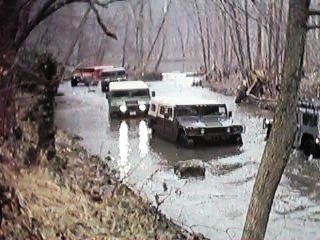 Pennsylvania traffic jam. I love Rivers! The front truck is my Green '95 Convertible, followed by Paul Gilmore in his 383 green, Mike Selig in his '95 Plum wagon, then Pete Gibbons in his red Wagon. On the right is Ron Papaleo. Ron is glad he could make it!
---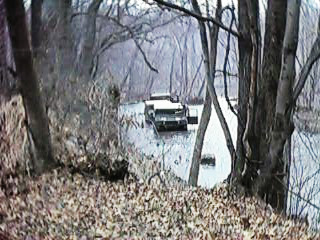 Here we are again a little way downriver. Hey...how do we get outta here?
---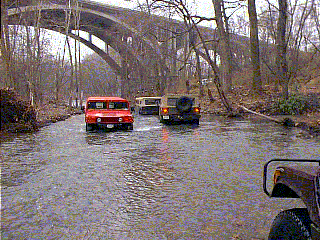 Here comes Pete Gibbons. Mike Selig bravely steps out of his truck to snap this photo.
---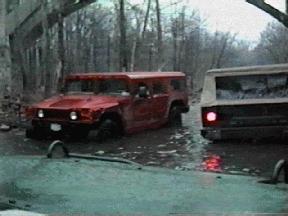 Had enough river shots yet? This is my convertible on the right and Pete Gibbons on the left. Photo from Paul Gilmores' cab.
---