---
Click Here for the 1998 HUMMER Challenge!
HML Members Kick Butt in the 1997 HUMMER Challenge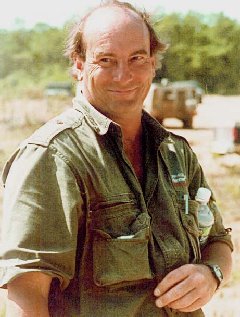 The 1997 Hummer Challenge was the first of its kind. It was organized by Bob Hazel, with help from Hal Johnson. Bob Hazel did a marvelous job. He was always out there and kept in touch with all of us. He pulled this off with great sponsors, including Off-Road America and Hummer of Orlando. He is smiling here on the last day in the CLAY PIT of Ocala National Forest of Florida.
---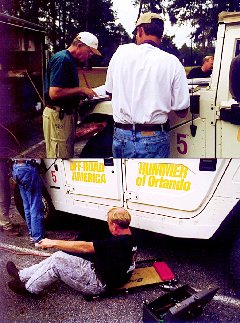 AM General sent several company representatives. They even participated in some of the trials. It was good to see AMG's there. They drove a beautiful 1997.5 Deep Red (a new color for 1998) Wagon.
---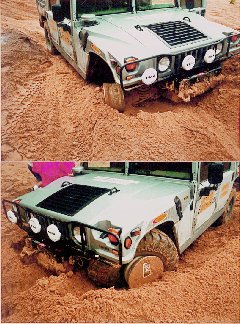 There were some incredible obstacle courses. Remember, these were designed with speed in mind. Some teams went crazy, and invariably lost time when a cone or flag was hit. These people did not have a bead lock. When they pressured down, a front tire flew off. Because of the torrential rains, their windows were closed and they could not hear people telling them that the tire was off. Then the other front tire came off, too.
---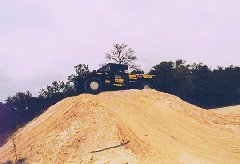 The Navigations Stages entailed finding various locations throughout Ocala Forest. Some of theses were just points in the forest such as a single tree with a painted strip in yellow. GPS Units were manditory. If the team did not have one, they were provided free. Often, proof of reaching a point was made by taking a Polaroid picture. Sometimes, the team had to duplicate a picture. Bill Myers is pearched at the top of this sand mound, obviously holding me up from getting my picture.
---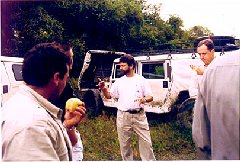 At other times, we had to follow intricate road directions through paths in the forest. These were regulated by distance and speed of vehicle. Arriving too fast or too late resulted in loss of points. Here, Hal Johnson is talking to other Hummer drivers after the last day TSD (time, speed, distance) race.
---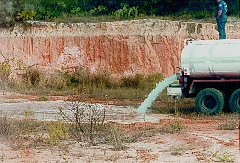 One of the most spectacular events were in the CLAY PIT. When I drove my Hummer into the gate area, I knew I was in for trouble. The obstacle course, winching, and Blind Man tasks were here.

I knew I was in trouble when I saw the fire trucks unloading water into a dug-out hole. I got this stange feeling I was going to be in that water before the day was over. But, it was even worse than my dreams....
---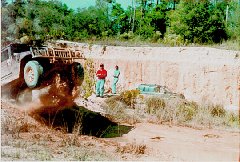 The High Speed Obstacle Course was a true challenge. It started at the Water Hole, and continues through some difficult turns, hills and a log roll about 200 feet long. This vehicle became airborn as it hit the 4-foot high mound going into the 3 feet of water and mud.
---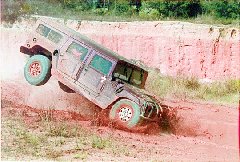 Barney did not land exactly on all fours. People were shouting "doesn't it float?". It seems to want to nose dive into the mud.
---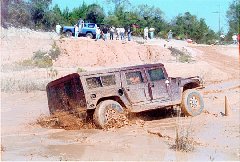 "Barney" landed on all fours, eventually. I am told that a few bones were broken--two half-shafts, and a bent frame. In spite of that, it did provide some spectacular entertainment.
---